After much anticipation, CloudPass exclusively got our hands on the new Hikvision TMC ANPR bollard. Firstly, what a serious piece of kit!
As experts in ANPR, we have worked on a wide range of projects and having the new TMC offers installers and end users a great alternative where a typical ANPR solution has its challenges. The TMC is perfect for users who have tailgating issues or lack of space to place a pole several meters behind a gate, barrier or bollard.
So here we have a short review on how we got on testing it with our CloudPass software, tech-specs and final thoughts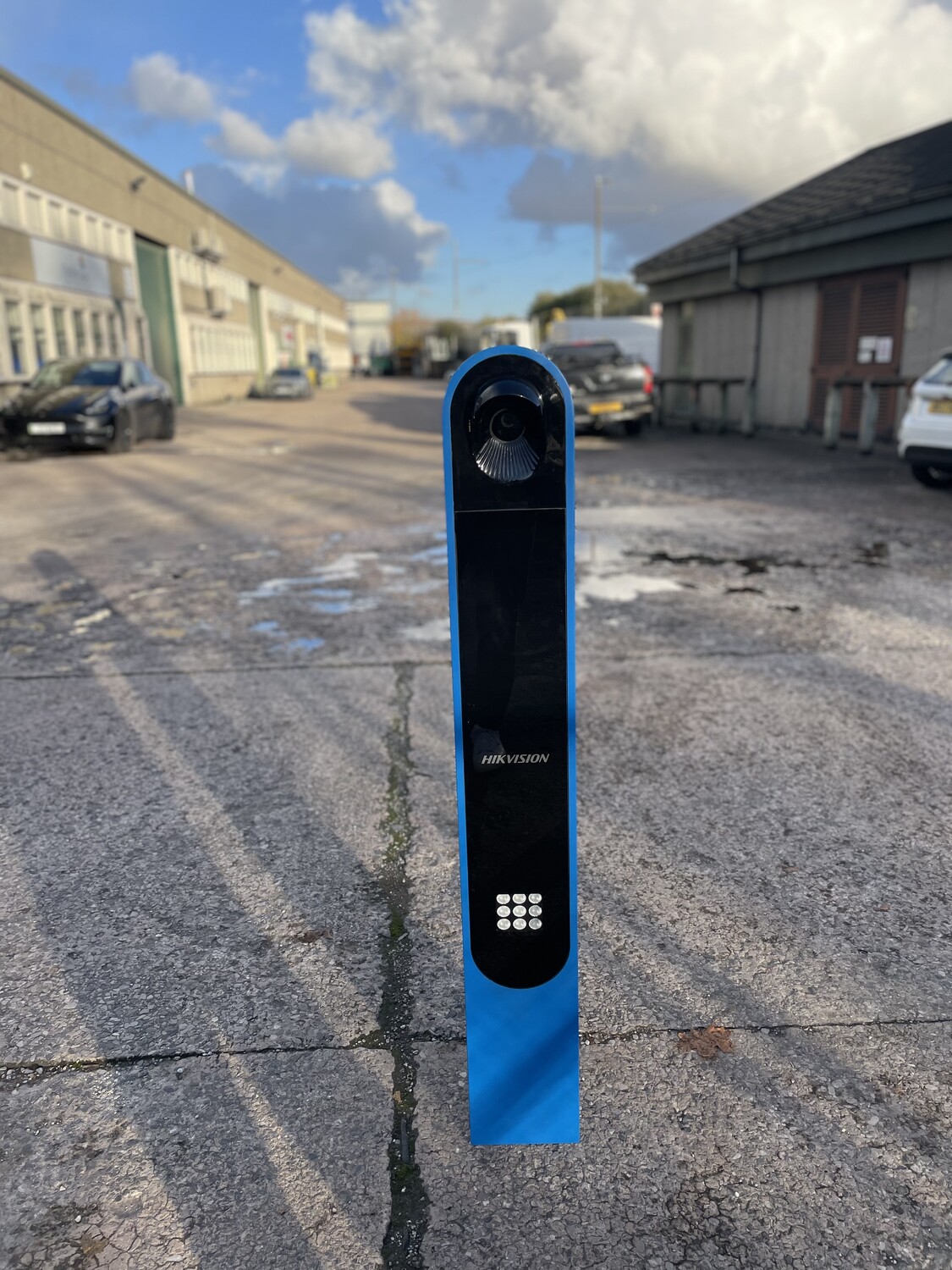 Testing
Out of the box the first point to make is that the UK version will be in Grey and not the Blue variant we used for testing. Standing at over 1400mm in height, the TMC has a premium feel as well as looking the part. There is ample room at the back of the TMC to fit additional hardware. This is where we placed our CloudPass controller (ACU) and we still had plenty of room. It's also feasible to fit hardware on to the front panel too. We were then ready to start testing
One of the great selling points of the TMC is that it simply needs bolting to the ground. This will massively reduce the cost when quoting compared to a traditional ANPR system with no need for columns, reducing install times. However it is worth pointing out that this does increase the risk in security as the TMC is not vandal proof in and around the lens (although protected). So it is a case of horses for courses.
Integration with CloudPass
At CloudPass we integrate in to the full suite of Hikvision cameras and the TMC offers great reads. With a 3.1mm - 6mm 4MP lens its great for those installs with a gate or barrier and ensures you are capturing an image of the nearest vehicle to the bollard, gate or barrier. No more tailgating!
Now that testing and integration is complete, we have seen plenty of interest from installers wanting an alternative to a typical ANPR solution. CloudPass offers customers a true cloud solution and removes the cost of additional hardware and civils, whilst communication between devices and remains fully secure.
Tech Spec
 High definition: 4 MP HD camera with max. 2688 × 1520 resolution and 25 fps frame rate.
Low illumination: High quality imaging with 1/3" progressive scan CMOS. 0.022 lux low illumination with clearer imaging at night.
Supplement light: Embedded with 9 bright LED lights, the device has smart supplement light technology, which supports supplement light control according to time and brightness.
Multiple trigger modes: Supports triggering via video, loop, radar, etc. It provides high capture rate and recognition via video. It can capture vehicles without license plates, and the capture rate is higher than 99.9%.
Anti-vehicle following mode: Supports anti-vehicle following mode via video and radar/loop. The boom pole can keep rising in vehicle queue scenario to solve the congestion.
Ingress protection: The surface of the host adopts anti-UV and electrostatic spraying, and the level of dustproof and waterproof meets the requirement of IP54 for outdoor devices.
Easy construction: The all-in-one structure brings simple wiring and convenient debugging, and can shorten 1/3 of the construction period.
Full Spec
Jim's final thoughts...
As previously mentioned, the TMC does offer an alternative when a typical ANPR camera mounted to a pole won't suffice. It will remove the pain of tailgating. As the TMC will only capture an image of the nearest vehicle to the gates / barriers (if installed correctly!) The camera housed inside offers similar results to the TCM range, offering great performance. With a good build quality, a long list of additional features and now integrates in to CloudPass. The TMC wont be for everyone, but it certainly has a sweet spot in the market.